Stop Hair Loss. Multi-Therapeutic Hair Loss Treatment & Prevention for Men & Women
Hair Loss Treatment & Prevention Programs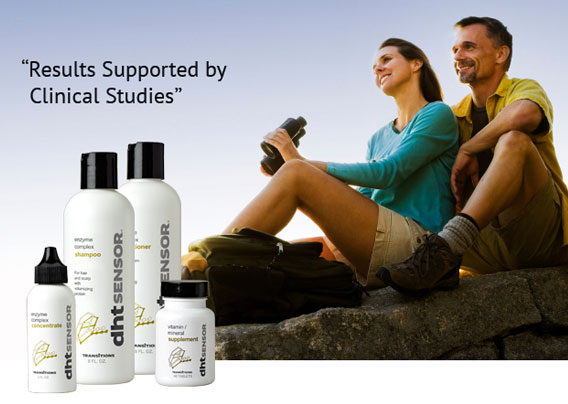 Hair Loss Treatment & Prevention
dhtSENSOR is an easy-to-use, clinically-tested hair loss prevention program designed to help control excessive hair loss, improve the quality and condition of your scalp, minimize hair loss, enhance the appearance of thin looking hair, and stimulate hair growth.
In carefully controlled clinical studies, when used as a complete program, dhtSENSOR was shown to increase the percentage of Anagen (growing) hairs in 80% of test patients. 100% of the test group had substantial increases in hair shaft diameter and had larger, more deeply rooted hair follicles.
DHT Sensor Hair Loss Treatment & Prevention
Results Supported by Clinical Studies. Clinical Studies were performed by a leading Trichology Research Clinic. Once it was determined a patient genuinely had excessive hair loss, they used the complete dhtSENSOR program daily and were reviewed in the Clinic monthly. Anagen (growing)/Catagen (dormant) ratios, hair shaft diameters and hair follicle size and depth were all carefully documented and research continued for a six month period. Additionally, 40% of the test group showed increased Vellus (new) hair development.
University Tested
The DHT Sensor program for hair loss control and rejuvenation is the result of over a 15 years of pharmaceutical research, development and clinical studies. The result is a one of the safest, most effective, proven hair loss control, prevention, and rejuvenation programs available today.
As part of dhtSENSOR's hair loss control studies, skin penetration tests were performed by the Dermatology Department of a major California University. This study documented that dhtSENSOR's unique micro-emulsion delivered more than 3,000 micrograms per daily application of Enzyme Complex directly into the scalp and hair follicle.
Who Should Use DHT Sensor?
Men and women who are beginning to experience thinning hair, or who have naturally thin, fine hair.
Will DHT Sensor Prevent Hair Loss?
At the very least the dhtSENSOR program slows down excessive hair loss and, in many cases, holds off further hair loss indefinitely. In clinical studies, 40% of the test group showed increased hair development. The dhtSENSOR program brings together clinically proven hair loss control products in one easy-to-use program to help improve the overall scalp and hair environment, significantly block DHT (Dihydro-testosterone), provide complete nutrition for your hair, and enhance the appearance of thin looking hair by minimizing hair loss and stimulating hair growth.
Now you can reap the benefits of maintaining the health and life of your existing hair while controlling and fighting hair loss with dhtSENSOR, the ultimate hair support system. Ask us about how the dhtSENSOR prevention program might benefit you and your particular hair loss situation.
What is the DHT Sensor Treatment Program?
Enzyme Complex Concentrate
The Enzyme Complex Concentrate took years of development and testing to perfect the micro-emulusion delivery system allowing the enzyme molecules to penetrate the scalp. The Enzyme Complex seems to balance the CO2 radicals in the splitting of amino acids, contributing significantly to protein synthesis while metabolizing both carbohydrates and fat. One positive side effect of this action is that the Enzyme Complex appears to block the build-up of cholesterol and excessive concentrations of testosterone, suppressing its conversion into dihydrotestosterone (DHT), the most common cause of hair loss.

Shampoo and Conditioner
DHT Sensor's shampoo and conditioner have their own exclusive formulations. They volumize the hair from the very first application while thoroughly cleansing and conditioning the scalp and hair, establishing the foundation for healthy hair growth. They are available as part of the complete DHT Sensor program, as well as individually.

Vitamin / Mineral Compound
The DHT Sensor Vitamin/Mineral Compound provides all the necessary vitamins and minerals for healthy hair growth, including ingredients which have been proven to help inhibit the negative effects of 5 Alpha Reductase activity in the skin, a known cause of hair loss.

FDA Compliant
All dhtSENSOR products are formulated by cosmetic chemists and are blended and filled by FDA approved laboratories to further assure the safety and and quality of each product in the DHT Sensor program.
The DHT Sensor program utilizes a multi-therapeutic approach with carefully balanced products designed to provide proper scalp hygiene and nutrition, while suppressing the development of Dihydrotestosterone (DHT), the most common cause of hair loss.
DHT Sensor has been found to be particularly effective when combined with low level laser hair loss treatments.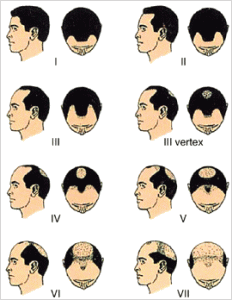 WHETHER YOU ARE EXPERIENCING thinning hair and want to stop your hair loss, or want more hair, we offer the latest clinically proven hair loss treatment and hair restoration solutions for men and women of all ages and hair types.
At Advance Technique in Richmond, Virginia, we offer private consultations to help you determine which treatment is best for your individual situation. See for yourself how much you have to gain. Schedule your confidential hair loss evaluation today and discover your perfect hair loss solution.
Get Answers Today
Restore Your Hair. Restore Your Life. Book your private hair loss evaluation today.