Endorsed by Hollywood Stylists & Celebrities: Introducing Virtual Reality Hair for Men
Virtual Reality Custom Men's Hair Replacement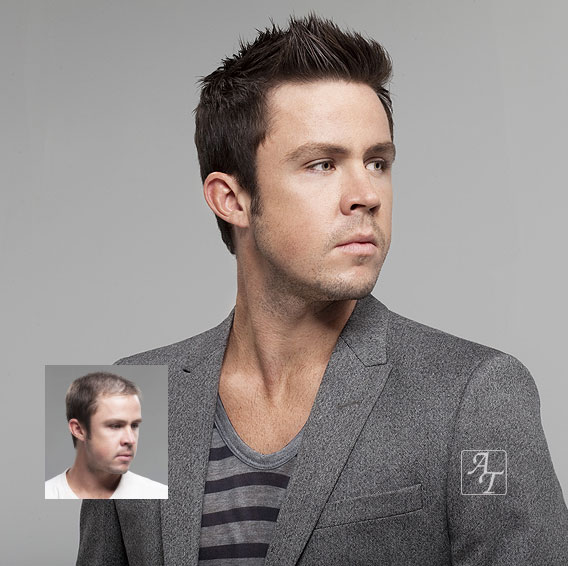 VIRTUAL REALITY™ From Advance Techniques Richmond
Hair Replacement for Men
Bring back a full head of hair in less than an hour! For the first time you can have the same real, non-surgical hair loss solution used by Hollywood stars, on and off the screen.
Your hair frames your face, suggesting youthfulness, health and vitality. Now you can have a full head of natural hair and the style you want after your very first session. Virtual Reality is Hollywood endorsed and recognized by the international media, and is available in the Richmond, Virginia area exclusively at Advance Techniques.
Virtual Reality, unlike a traditional hairpiece, becomes part of you — not something you wear. The technique involves applying an invisible, non surgical derma-lens, like a contact lens into which human hair is inserted, compatible in color, density, curl pattern, texture, etc. The result is the Virtual Reality cosmetic miracle hair restoration that revives your youthful appearance and looks totally natural.
 Virtual Reality Men's Non-Surgical Hair Replacement
The secret of the Virtual Reality Men's Hair Replacement technology lies in its proprietary "Dermal Lens" base. The Virtual Reality base is a thin, flexible, second-skin-like surface created with natural hair growth patterns using 100% natural human hair that is perfectly matched to your own growing hair. It is literally undetectable to the human touch. And there is essentially no home maintenance other than washing, conditioning, and normal styling, just like your own natural growing hair.
Virtual Reality Men's Hair Replacement duplicates your own natural growing hair. Virtual Reality Hair can match your hair color, texture, and style. Your hair can be thick, thin, curly, straight, light, dark, or whatever. The density and patterns look right for you. With Virtual Reality non-surgical hair replacement, there are:
No bumps, lumps, or ridges with the exclusive DermaLens base
No more worrying about bright lighting, wind, or rain
No worrying about your hair and checking the mirror every five minutes
Any style… anyway you want it, whenever you want it because it is made from 100% natural human hair
No daily maintenance
Wherever you travel nationwide, a Virtual Reality Hair Replacement Center is there to assist you
100% Euro Texture Human Hair for the most natural appearance and touch.
Virtual Reality has been featured on national TV and media and on local Richmond area television. It is the choice of athletes, stars, Hollywood directors, and stylists.
Restore Your Hair. Restore Your Life.
Live life the way you want, without embarrassment, without being self-conscious, with a full head of hair again. Take the first step to a new you. Schedule your private and confidential hair loss evaluation today. Just click on the link below or call (804) 323-4040.
WHETHER YOU ARE EXPERIENCING thinning hair and want to stop your hair loss, or want more hair, we offer the latest clinically proven hair loss treatment and hair restoration solutions for men and women of all ages and hair types.
At Advance Technique in Richmond, Virginia, we offer private consultations to help you determine which treatment is best for your individual situation. See for yourself how much you have to gain. Schedule your confidential hair loss evaluation today and discover your perfect hair loss solution.
Get Answers Today
Restore Your Hair. Restore Your Life. Book your private hair loss evaluation today.