State-of-the-Art Cranial Prosthetics for Male Hair Loss and Alopecia
Medical Men's Hair Prosthesis Richmond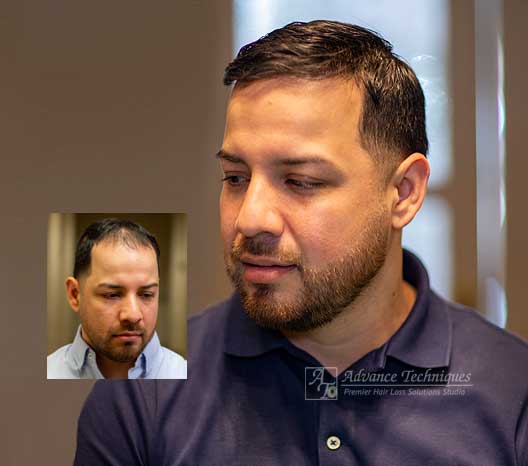 Non-Surgical Medical Hair Prosthesis for Men
100% Natural Non-Surgical Hair Prosthetics for Men. Now you can forget you ever had a hair loss problem. Our exclusive state-of-the-art Hair Prosthetic for Men is the latest in state-of-the-art hair restoration and hair loss solutions designed specifically to meet your individual and specific hair restoration needs.
By creating a perfectly customized non-surgical hair prosthesis solution designed to meet the individual and specific needs of each client, Transitions Men's Hair Prosthesis systems offer the completely natural look and feel of real 100% human hair that goes with you everywhere. The result is so incredibly natural that you can have any hairstyle you want and forget you ever had a hair loss problem.
Medical Hair Prosthesis for Men – Richmond, Va.
Transitions Hair Prosthesis for Men is virtually undetectable to both sight and touch because it is made from the finest 100% natural human hair and perfectly matched to your exact age-appropriate specifications, based upon your desires and expectations, and customized to your individually unique lifestyle. Whether you are an active young adult, middle-aged businessman, or whatever your age may be, our Medical Cranial Hair Prosthesis for Men offers a personally customized hair loss solution for those with hair loss, alopecia areata, and trichotillomania.
Transitions hair prosthesis systems offers a natural front hairline, age-appropriate density and an uninterrupted scalp. And best of all, you can have the same total coverage of your scalp as you had before you started going bald. No one will ever know that it's not your hair growing out of your own scalp.
State-of-the-Art Men's Hair Prosthetic
Look closely at the Transitions hairline: Individual hairs emerging from the scalp, in light density following an irregular pattern. This is how a real, growing hairline looks.
The Transitions hair prosthesis system, available exclusively in the Richmond, Virginia area at Advance Techniques, offers a naturally appearing front hairline, perfect natural hair density based on your age and existing hair, where the scalp appears normal and visible even when the hair is parted. That is, there is no perceptible change in coloration, appearance or feel between the original hair and scalp and the medical hair prosthesis.
Transitions is truly a breakthrough in men's hair restoration solutions, providing an extremely effective solution for hereditary male pattern hair loss, as well as thinning due to factors such as accidents, medical treatments, alopecia, trichotillomania, or systemic disorders. However, Transitions is not for everyone. Approximately 90% of men may be appropriate candidates for this type of men's hair replacement solution.
WHETHER YOU ARE EXPERIENCING thinning hair and want to stop your hair loss or want more hair, we offer the latest clinically proven hair loss treatment and hair restoration solutions for men and women of all ages and hair types.
At Advance Technique in Richmond, Virginia, we offer private consultations to help you determine which treatment is best for your individual situation. See for yourself how much you have to gain. Schedule your confidential hair loss evaluation today and discover your perfect hair loss solution.
Get Answers Today
Restore Your Hair. Restore Your Life. Book your private hair loss evaluation today.